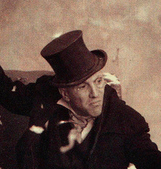 Maynard James Keenan (born James Herbert Keenan on April 17, 1964) is an American rock singer, songwriter, musician, producer, winemaker, and actor. Although originally from Ohio, Keenan spent his high school and college years in Michigan. After serving in the Army in the early 1980s, he attended Kendall College of Art and Design in Grand Rapids. He relocated to Los Angeles, California in 1988 to pursue a career in interior design and set construction, and formed the band Tool with Adam Jones shortly thereafter.

Keenan is best known as the lead singer of the multi-platinum rock bands Tool and A Perfect Circle with whom he has released four and three studio albums, respectively. In 2003, he created Puscifer as a side project, financing and releasing its first studio album in October 2007. In addition to his music career, he has performed improvisational stand-up comedy, as inspired by close friend Bill Hicks, and ventured into acting, making his feature film debut in April 2009 with the release of Crank: High Voltage. He is the current owner of Merkin Vineyards and the associated winery, Caduceus Cellars, and has part ownership of Stronghold Vineyards, all located in Arizona, where he resides. In 2009, the first wine made entirely from Keenan's own grapes was produced by his winery, and dedicated to his late mother with the name "Nagual del Judith". Among other business ventures, he is a partner in the Los Angeles restaurant Cobras & Matadors and owns a produce market in Cornville, Arizona. Since rising to fame, Keenan has been a noted recluse, although he does emerge to support charitable causes.

In order to promote his wine, Keenan began signing sessions in the fall of 2008. Making appearances in Whole Foods Markets on the west coast, the tour continued through the end of the year, and went into Texas. In January 2009, it was announced that Keenan is set to open an organic market in Arizona featuring a tasting room for his wines as well as a food court. Puscifer made its concert debut in Las Vegas in February 2009.

After moving to Los Angeles, Keenan met Adam Jones, who had heard him singing on a demo in college, and Jones suggested that they form a band. Although reluctant at first, Keenan agreed and, in 1990, Tool was formed. Fronted by Keenan, the eventual lineup included guitarist Jones; his neighbor, drummer Danny Carey; and bassist Paul D'Amour, who would later be replaced by Justin Chancellor.

Tool signed to Zoo Entertainment in November 1991 and released the Opiate EP the following year. To support this release, the band toured with Fishbone and Rage Against the Machine. During a 1993 show at the Church of Scientology's Celebrity Centre in Los Angeles, Keenan (who would later write the lyrics "Fuck L. Ron Hubbard and fuck all his clones"), baa-ed like a sheep for a good portion of the show. "Before our set this guy tries to intimidate me by showing me a gun in his jacket," Keenan recalled. "I explained to him that if he pissed me off I'd start a riot." Shortly thereafter, Tool released their 1993 debut album, Undertow, in the United States, where it was certified gold after just eight months, and platinum less than a year later. In 1994, the band released their single "Prison Sex"—a song in which Keenan opted to deliver in a slight grunge-style—with a corresponding music video created and directed by Jones. The video was deemed "too graphic and offensive", and was withdrawn by MTV after a few airings due to "a symbolic dealing with the sensitive subject of child abuse".

In October 1996, the band released their second studio album, Ænima, which was certified gold in ten weeks and achieved double platinum in ten months. The Metal Observer reviewed the album stating, "Knowing what is around the corner is rarely guessed correctly and the band focus brutality with melody in equal measure. Tool's music shouldn't fit and it doesn't as Maynard spills forth discontenting imagery through his incisive dissonant lyrics." In 1998, "Ænema" won the Grammy Award for Best Metal Performance. After the release of the album, Tool began a prolonged legal battle with their label Volcano Records (formerly Zoo Records) over alleged contract violations. Following this legal battle, which resulted in a new three record deal, the members of Tool decided to take some time off. During the hiatus, the band members were outspokenly critical of filesharing networks, due to the negative financial impact on artists dependent on success in record sales. During an interview with NY Rock in 2000, Keenan stated, "I think there are a lot of other industries out there that might deserve being destroyed. The ones who get hurt by MP3s are not so much companies or the business, but the artists, people who are trying to write songs."

Five years after the release of Ænima, Tool announced a new album, Systema Encéphale, with a 12-song tracklist in January 2001. A month later, the band revealed that the new album was actually titled Lateralus and that the name Systema Encéphale and the tracklist had been a ruse. The album was released in May 2001 to positive reviews. Known for his "dark, intelligent, compelling, and unexpected lyrical twists", Keenan was acclaimed for his songwriting on the album, in which he "doesn't cross the line from darkness to ugliness ... as often as he has in the past". In an interview with NY Rock, Keenan explained, "Everything we release with Tool is inspired by our music. It doesn't matter if it is a video or if it's lyrics. The lyrics for "Schism" are nothing more than my interpretation of the music." The album became a worldwide success, reaching #1 on the U.S. Billboard 200 albums chart in its debut week, and Tool received their second Grammy Award for the best metal performance of 2001 for "Schism".

Fifteen years after the band's formation, Tool had acquired what Dan Epstein of Revolver described as a devoted "cult" following, and in May 2006, the band released 10,000 Days, an album in which Keenan sang about more personal issues, in contrast to previous attempts to inspire change. His mother is the inspiration for two tracks on the album; the two-part song "Wings for Marie" and "10,000 Days (Wings for Marie, Pt 2)", and "Jambi" which deals with her 2003 death after 27 years, or around 10,000 days, of suffering. The album sold 564,000 copies in its opening week in the U.S. and was #1 on the Billboard 200 charts. However, 10,000 Days was received less favorably by critics than its predecessor Lateralus had been.

Following 10, 000 Days, Tool had one album remaining to fulfill the obligation of its record contract. Though there is no information available on any plans for this album, Tool has worked around Keenan and his side projects since 1999, starting with the creation of A Perfect Circle, which has led to several years between projects. Regarding the future of Tool, Keenan stated in a 2007 interview with Spin, "We'll make music together until one of us is dead."


More on Wikipedia...