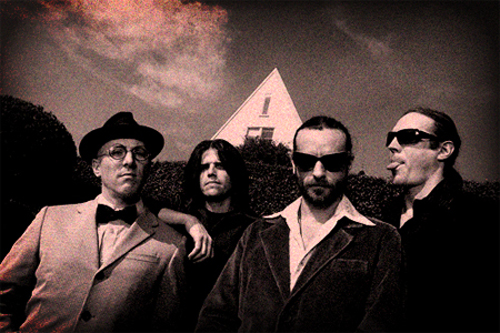 Tool
is a Grammy Award-winning American rock band from Los Angeles, California, formed in 1990. Since its inception, the band's line-up has included drummer Danny Carey, guitarist Adam Jones, and vocalist Maynard James Keenan. The current bassist is Justin Chancellor, who has been with the band since 1995. Tool is known to have rigorous touring schedules in support of their albums, they have performed well on charts worldwide, and have sold an estimated 9.25 million records in the US alone.

Tool emerged with a heavy metal sound on their first album Undertow, at a time when the genre was dominated by thrash metal, and later reached the top of the alternative metal movement with the release of their second album, Ænima, in 1996. Their efforts to unify musical experimentation, visual arts, and a message of personal evolution continued with their third record Lateralus in 2001 and their most recent album, 10,000 Days, released in 2006, gained the band critical acclaim and success around the world. Due to Tool's incorporation of visual arts and relatively long and complex releases, the band is generally described as a style-transcending act and part of progressive rock and art rock. The relationship between the band and today's music industry is ambivalent, at times marked by censorship and the band members' insistence on privacy.

Musical style and influences
Tool was described by Patrick Donovan of The Age as "the thinking person's metal band. Cerebral and visceral, soft and heavy, melodic and abrasive, tender and brutal, familiar and strange, western and eastern, beautiful and ugly, taut yet sprawling and epic, they are a tangle of contradictions."[65] Tool has gained critical praise from the International Herald Tribune's C.B. Liddell for their complex and ever-evolving sound. Describing their general sound, Allmusic refers to them as "grinding, post-Jane's Addiction heavy metal", and The New York Times sees similarities to "Led Zeppelin's heaving, battering guitar riffs and Middle Eastern modes". Their 2001 work Lateralus was compared by Allmusic to Pink Floyd's Meddle (1971), but thirty years later and altered by "Tool's impulse to cram every inch of infinity with hard guitar meat and absolute dread".
Musical style
A component of Tool's song repertoire relies on the use of unusual time signatures. For instance, bassist Justin Chancellor describes the time signature employed on Lateralus's first single, "Schism", as 6.5/8, and that it later "goes into all kinds of other times".[80] "Lateralus", the album's title track, also displays shifting rhythms, as does 10,000 Days' "Wings for Marie (Pt 1)" and "10,000 Days (Wings Pt 2)".
Beyond this aspect of the band's sound, each band member experiments within his musical scope. Bass Player magazine described Chancellor's bass playing as a "thick midrange tone, guitar-style techniques, and elastic versatility". As an example of this, the magazine mentioned the use of a wah effect by hammering "the notes with the left hand and using the bass's tone controls to get a tone sweep", such as on the song "The Patient" (Lateralus 2001).
Completing the band's rhythm section, drummer Danny Carey uses polyrhythms, tabla-style techniques, and the incorporation of custom electronic drum pads to trigger samples, such as prerecorded tabla and octoban sounds.
Maynard James Keenan's ability as a vocalist has been characterized more subjectively by the Seattle Post-Intelligencer: After his performance during an Alice in Chains reunion concert in 2005, freelancer Travis Hay saw him as "a natural fit at replacing Layne Staley". Regarding his role in A Perfect Circle and Tool, The New York Times wrote that "both groups rely on Mr. Keenan's ability to dignify emotions like lust, anger and disgust, the honey in his voice adding a touch of profundity".
According to Guitar Player magazine, Adam Jones does not rely on any one particular guitar-playing technique but rather combines many techniques. For example, Allmusic wrote that he "alternately utiliz[es] power chords, scratchy noise, chiming arpeggios, and a quiet minimalism" in "Sober". Additionally, the band uses forms of instrumental experimentation, like the use of a "pipe bomb microphone" (a guitar pickup mounted inside a brass cylinder) and a talk box guitar solo on "Jambi".
The band puts an emphasis on the sound of their songs and attempts to reduce the effect lyrics can have on the perception of songs by not releasing song lyrics with any album. Lyrical arrangements are often given special attention, such as in "Lateralus". The number of syllables per line in the lyrics to "Lateralus" correspond to an arrangement of the fibonacci numbers] and the song "Jambi" uses and makes a reference to the common metrical foot iamb. The lyrics on Ænima and Lateralus focused on philosophy and spirituality—specific subjects range from organized religion in "Opiate", to evolution and Jungian psychology in "Forty-Six & 2" and transcendence in "Lateralus". On 10,000 Days, Keenan wanted to explore issues more personal to him: the album name and title track refer to the twenty-seven years during which his mother suffered from complications of a stroke until her death in 2003.
Influences
The band has named the Melvins among those that influenced their development, but the most-publicized influence are progressive rock pioneers King Crimson. Longtime King Crimson member Robert Fripp has downplayed any influence his band had on Tool. In an interview with Tool, he touched briefly on how the two bands relate to each other:
"Do you hear the influence? There's just one figure where I hear an influence, just one. It was a piece we were developing that we dropped. And it's almost exactly the same figure: three note arpeggio with a particular accent from the guitar. So I do not think you could have heard it. That's the only thing."
He also stated:
"I happen to be a Tool fan. The members of Tool have been generous enough to suggest that Crimson has been an influence on them. Adam Jones asked me if I could detect it in their music, and I said I couldn't. I can detect more Tool influence in King Crimson, than I can hear King Crimson in Tool."
In turn, Maloof and Newquists attribute to Tool an influence on modern metal in its own right in their book The New Metal Masters.[5] Sean Richardson of The Boston Phoenix sees System of a Down, Deftones, and Godsmack as examples of Tool's "towering influence" on the genre.[94] Moreover, Keenan's unique style of singing has been repeatedly seen as influencing artists such as Pete Loeffler of Chevelle.
More on Wikipedia...